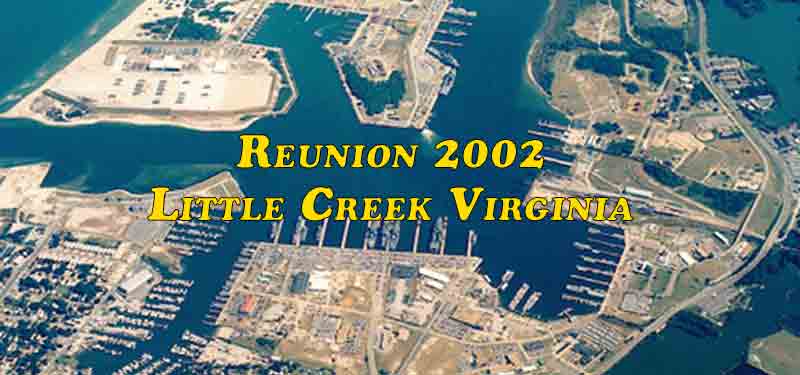 Reunion 2002, held 3-5 May at Little Creek, Virginia, was set up by Don Stone and A. Dee Clark. They were assisted by the onsite help of Bob Clark and Bob Rieve, whose experience and base connections helped create a great reunion. Thanks to Berny Diggs getting reunion notices in numerous publications and Chris Seger mustering up a number of his UWSS 1961 classmates, there were 72 attendees!
Friday evening's Ice Breaker at the CPO Club was the time to renew old friendships,, swap stories, and see who was in worst shape.
Saturday started with a continental breakfast and business meeting at the Focsle Club. A decision that the next reunion should be held on the West Coast was followed by election of officers. Don Stone was reelected president, Chris Segar was elected vice president, A. Dee Clark continued in his four year term as treasurer, and Erasmo Riojas remains historian.
Saturday afternoon there was a visit to SDV Unit to see the latest technology in SEAL delivery vehicles. Also on display were specialized diving gear and an assortment of weapons and other lethal tools of the trade.
The banquet Saturday evening was at the Focsle Club Gallery Room. Master of ceremonies was Bob Clark. Speakers were Tom Hawkins, Bob Rieve, and Joe Kennedy. Don Stone honored the individuals who helped make Reunion 2002 a success, presenting a plaque to Bob Rieve and certificates of appreciation to Bob Clark, A. Dee Clark, Chip Provaznik, Berny Diggs, Hank Holder and Chris Seger. Chris tracked down eleven of his UWSS classmates and many of them were at the reunion.
Sunday morning's visit to the Mobile Diving and Salvage Unit included a presentation about the upcoming salvage operation for the USS Monitor. On display were the old MK5 hard hat rig that many of the members first trained with and a new portable aluminum recompression chamber.