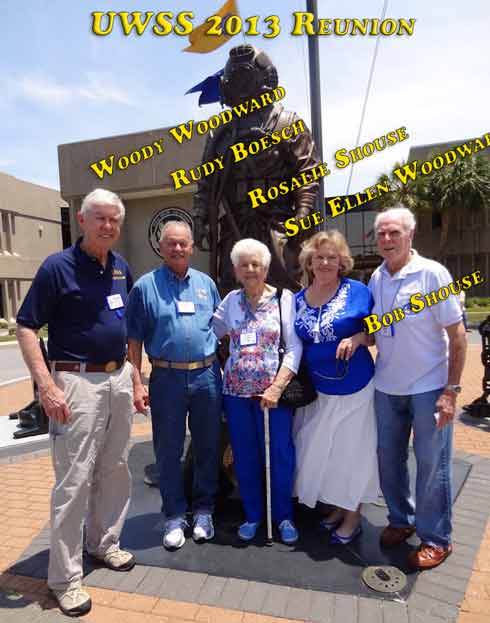 Reunion 2013 was held at Naval Support Activity, Panama City, Florida, 16-19 May 2013. The reunion committee and NSA showed that good old southern hospitality for a second time and gave us another great reunion. One hundred fifty five members and guests enjoyed the efforts of reunion chairman, Woody Woodward, and his talented crew.
Activities got underway on Thursday with an Ice Breaker at the Main Deck overlooking St. Andrews Bay.
Friday's activities included tours of the Navy Diving and Salvage Training Center, the Experimental Diving Unit, and the NSA Dive locker and EOD locker.
At the Friday night barbeque a fundraiser auction of donated UWSS memorabilia and other items was fun and profitable. Populari tems were blasting machines and crimpers, knives, UDT life vest, and posters.
At the Saturday morning business meeting, the membership chose to return to NSA Panama City for the 2015 reunion. The reunion date was set at May 14-17, 2015. Aaron Farrior volunteered to chair the reunion committee. The current officers were reelected: Bob Holmes, President, Gerry Flowers, Vice President, Don Stone, Secretary/Treasurer.The meeting was adjourned for group photos. To download a full size image of the group photo by Berni Campoli Click here. For the Berni Campoli photo with the members and ladies Click here. Different Web Browsers will give you different results, however you can "right click" on the downloaded image and select "save image as" to save it to your computer.

The banquet Saturday evening was a fine way to end a great reunion. The wood carving of the 2009 cake topper shark and rider made its debut surrounded by an array of elegant cakes. Also on display was the beautiful rendition of a shark rider presented to the FO/UWSS by the PJ members. Guest speaker, Jim McCarthy, spoke about the use of the hyperbaric chamber to treat medical problems.
It seemed like everyone wanted a picture taken with Jake!